Hey friends! I am home, back in my beloved California! Last week I sort of just dropped off the map a little, but I think that can be good for the soul sometimes. I missed Weekly Wishes last week, but here I am to fill you in on my wishes from
two weeks ago
and start this week off right!
Weekly Wishes is one of my favorite parts of the week, and I just love how Melyssa of
The Nectar Collective
has developed it. Be sure to check out her blog!
- Finish writing a difficult letter to someone. Check! I did this and it felt great. I definitely feel better and I think it really helped!
- Send some photos off to people, like wedding photos and portraits. Unfortunately, this just didn't happen. I really, really need to figure out what to do about the wedding photos (how do you easily transfer over 600 photos to someone?!), but the portraits I can put on discs until I figure out a better way. I may need to ask some professionals for advice on this one!
- Figure out a better way to reply to comments. Done! Notice the new Disqus commenting system I (with help of Twitter haha) installed?! So far I really like it!
- ENJOY my last week in Texas! Double check!! It was a nice week and I felt like I was really able to appreciate it. I did some adventuring and eating and photo taking. Not bad.
- Go to bed at a decent hour. Like by 10:30 or 11pm. I start school tomorrow, so this is especially important for me! I start at 8am, which I haven't done since high school, so I am expecting things to be rough haha how did they ever get me to do that for 12 years?!
- Create some sort of budget. Figure out what my monthly income is, my expenses, and how much I should be spending and saving! I am horrible at budgeting, but I think that is because I have never really tried to come up with any sort of system. I hear envelopes work well? Any ideas?
- Practice filming things. In September, a friend and I are filming a cute couple's wedding! Honestly, I am not quite sure how I got roped into this (I know NOTHING about making videos), but I am up for the challenge! It's always nice to learn new things, plus I love weddings. Win-win, right?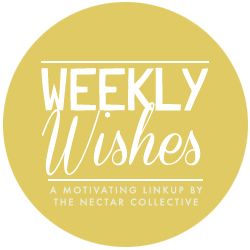 What are your weekly wishes?