Hello my friends! Things have been pretty quiet around here, I know. Between going to school full time, working anywhere between 25-30 hours per week, going to the gym, doing homework, prepping healthy meals, taking care of chores, and sleeping, I have not found much energy for anything else. I have missed this space this past week and hope to be able to fit it into my life better this week. October was so promising around here and I had the whole month planned out before it even arrived. I always feel awful having to postpone ideas and erase things from my calendar! Oh to have endless hours in a day and still get to sleep for nine of them... So, with all that being said, I will warn you now that I pretty much FAILED at my weekly wishes.

- Return emails within 48 hours and texts before the end of the day. I really wish that I did better at this. For the life of me, I cannot understand why such a simple thing is so difficult for me to do. I get distracted, and then it gets late, and then I don't feel like responding to or writing anything. It's an awful habit that I know I need to change, but didn't this week.
- Edit photos from my baby nephew's shoot. Nope. Didn't happen. I wish it did though because he is so dang cute. I don't mind looking at his face for a few hours :)
- Stick to my new meal plan. Yes! I did pretty well at this. With the exception of this weekend. Gosh darn you family and birthday dinners out. What is a girl to do? For those of you who asked last week, my meal plan primarily consists of lean proteins, fresh veggies, brown rice, avocado, and black beans. I also eat greek yogurt, oatmeal, egg whites, fresh fruit, and protein bars. Perhaps I will share the complete daily menu with photos one day soon if there is interest :)
- Take care of little tasks. I did not make a vet appointment for Marly or find a new dentist (although my dad did send me a link for where to find one!), but I DID reschedule my jury duty, which allows me to do something VERY exciting that I think should be a blog post announcement in itself :)
- Blog regularly. Last week was a drag in blogland and I think I saw a few tumbleweeds roll on by. So let's make this week much better, shall we?
- Focus in Biology lecture. I hate to admit this (especially since my sisters are teachers and might shoot me), but I do not focus in my bio lecture class and usually spend my time blogging, reading blogs, or thinking about blogging. Yep, I said it. It is just. So. BORING. But I know I just need to suck it up and make myself focus and probably not bring my laptop. I tell myself I am going to be taking notes with it, but who am I kidding?
- Do most of or even complete my English essay before Thursday evening. I am going to San Diego Thursday
evening! I am super stoked, but unfortunately, it looks like I will have an English essay due the day after I get back. Boo. Things have an uncanny way of working out, don't they? I hope to get most of it done before going though because I need to be spending my time drinking iced coffee and shopping with my sister, playing with my nephews, and carving pumpkins. None of that school garbage.
- Spend time with Marly. That poor pup. I love him to pieces, but I have just been so busy that when I come home at the end of the day, it is usually just time to hop in bed to catch a few hours of sleep. He always comes running faithfully with that old blue and yellow ball in his mouth, hoping for a few minutes to play. I will do my best to carve out some special time for the boy, especially since I will be gone this coming weekend.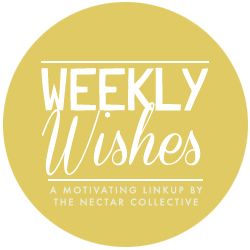 What does your week look like? Any weekly wishes?