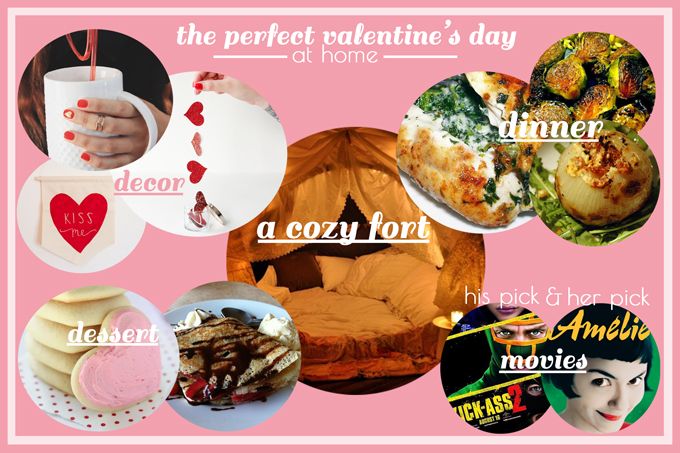 Happy Friday! I have the morning off and decided to start brainstorming some ideas for my Valentine's date with Dai. Since we are now
going to Japan in April
, we are trying to save money wherever we can, so we are going to spend Valentine's Day at home this year. Along with spending it at home, I wanted to do something nice for Dai since he is always surprising me with romantic and thoughtful things and has planned the past Valentine's Day dates we have spent together. It is my turn!
So, with that, I have come up with a few things that will make an epic night in.
Decor:
+ I am in LOVE with this super easy
heart garland
! I have been wanting to get a heart punch, and since I happen to have a Michael's gift card, this is the perfect excuse to buy one.
+ These
red & gold heart nails
from
The Beauty Department
are so cute. I am awful at doing my own nails, but maybe I can come up with something inspired by this!
+ This
"kiss me" banner
is adorable. Simple and to the point ;)
+ String lights and candles (not pictured). Nothing says cozy and sweet like a lovely low-light setting.
Dinner:
+ Not sure what I want to make as a main dish yet, but I have thought about making these
spinach & pepper jack stuffed chicken breasts
for a while.
+ These
blue cheese and bacon stuffed onions
look
delicious
! Super easy as well, which I am all about.
+ Dai and I have been interested in making roasted brussel sprouts for a while, so why not this night?
This recipe
is simple enough.
Dessert:
+ One of these days I would like to actually make decent sugar cookies, so I just may give
these heart shaped ones
a try!
+ I'd also like to try making crepes! Maybe with nutella, strawberries, and bananas as toppings? I think I'll follow
this easy crepe recipe
.
And to finish things off...
A fort & movies!
+ We have always talked about building a fort and watching movies, so I think that's what we will finally do! I'm definitely going to get creative and be sure to add lots of pillows and blankets to make things warm and cozy.
+ Dai has been wanting to watch
Kick-Ass 2
ever since we borrowed the first movie from our hotel's DVD library in NYC, and I have been wanting him to watch
Amélie
, so this night we will compromise and watch both :) A bit of sassy and a bit of sweet!
Sounds like a perfect night to me! What are your plans this year? Are you anti-Valentine's Day or love any excuse to have a special night?
If you are considering staying in this year, I hope my plans inspired you to make your night extra cozy, romantic, & inexpensive!