Today I am linking up with Melyssa of
The Nectar Collective
for my fifth week of Weekly Wishes! I have really been loving this motivating link-up and being held accountable for these goals :)
- Enjoy my new job! I started last Monday, and so far I really like it! I am nannying for two kids (a girl and a boy) and they are into crafts, love my dog, and think I'm awesome (which my previous kids did not because they were angsty boys and it just wasn't cool to have a nanny)! So things are off to a great start :)
- Finish buying all of my books and school supplies. Done! Well, almost, but pretty much done!
- Stay on top of homework. Sometimes I did well at this. And other times not so well... But I am trying and am becoming more aware of how my time is divided each week, and how much of it is needed for my classes.
- Blog more! Check! I am even much more organized this month and made myself a fancy lil' calendar to go along with it. This week (and month) is going to be full of great stuff, so stay tuned!
- Take my lunch every day. This seems insignificant, but I tend to be really bad about this, which either ends up with me being starving or unnecessarily spending money and eating unhealthily. So, to remedy this situation, I went out this weekend and bought myself some cool little lunch containers to take my food in, and a cute bag to carry it all in. Okay, so I am totally a dork and am actually excited by this stuff. I like being organized and think it is fun. Yep, go ahead and laugh. I'll wait. Done?
- Mentally prepare for and then ROCK the wedding I'm filming on Saturday. I'm pretty nervous about this! My friend who I am doing it with, Ola, is great with video and knows way more than I do about it, so it is nice to have her by my side. I did practice in the last few weeks, so that's good! I just focus on photography usually, so it has been kind of fun dabbling in something new. Wish us luck!
- Find time to relax and unwind. This week is going to be crazy! I have a paper due, as well as a few other hefty assignments and long days working and at school. This upcoming weekend will also be busy and tiring, so I am hoping that somewhere and somehow I will be able to find time to relax just a bit. Please, universe?
And that's all for this week! Pretty basic stuff, but I know that I won't be able to handle much more this week, so I have to be realistic in my goal setting. I would love to add things like make art for myself, work out, walk every day, and other things that will make me happy and feel better. I'll just have to save those for another week :)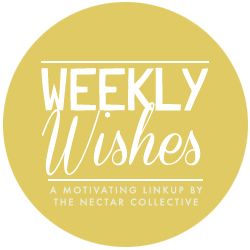 P.S. Did you notice the new header?! I feel like it is finally 'me' :)