It is Monday once again! This weekend was busy in the best way possible. I spent time with family, friends, ate great food, saw beautiful things, and took plenty of photos. I am still dragging my heels with this whole Monday business, but I think this week will be a pretty good one. So, let's get things started by linking up with Melyssa of
The Nectar Collective
with Weekly Wishes! Can you believe it is my tenth one already?!

- Work on editing the wedding video. Did this! And I spent my morning off today working in it some more. So yay me!

- Decide on a birthday gift for my dad. My dad's 60th birthday is tomorrow, and he is the most difficult person to buy for because he pretty much has everything. But, he just got his dream car a few months ago, so I think we are going to get him a subscription to Sirius Satellite Radio for his car :)

- Focus on healthy eating. This did not go as well as I would have liked, BUT it will go hand-in-hand with this week's goal, so I am not giving up on this one!

- Do not make any excuses. You know, I actually think I did a better job at this. I took more responsibility for my time and what was going on. So, I think I nailed it. This will be an on-going goal of course!
- Buy and start the Busy Bloggers Book Club book. Did you know that Allie of Call Me Sassafras started this great thing called the Busy Bloggers Book Club? It is a relaxed, no rules book club that you participate in when you have time and when you want to. And since I have been wanting to start reading for fun again, I think I will join!
- Get a calligraphy set. I have been admiring calligraphy and it's place in design for a while now, and have been itching to give it a try for myself. So, I would like to get my own supplies and start playing around with it! If it is any good, maybe I'll share it here soon :)
- Rock my midterms! I have an English midterm and a Biology midterm on Thursday, so things are kind of busy and a bit stressful (as usual). Wish me luck... And sanity!
- Put 100% of my effort into my personal training sessions. This should really be a blog post on its own one day in the future, BUT I decided to start working with a personal trainer and we begin this week! This is kind of scary and intimidating, but I know that this is the step I need to take to finally be and feel healthy, and to feel good about myself. I have let myself go so much and have made many excuses for it. So, I decided to take this leap and will begin eating healthily (last week's wish is making a
comeback!) and exercising regularly. This is the beginning of a transformative journey. I can't wait, even though I know I will be tempted to give up at times.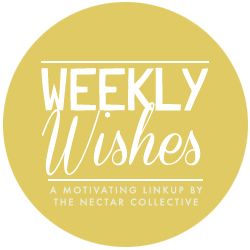 Well, here's to a productive, happy week ahead!