Hello all! It has been far too long since I have linked up with
The Nectar Collective
for Weekly Wishes. Makes me sad to think about actually, since it is one of my favorite parts of my week. I am not going to even bother going over my goals from my last Weekly Wishes post. I can pretty much guarantee you that I didn't do any of them. I don't even remember what they were and don't care to know because I will probably just be disappointed in myself for not accomplishing them, so let's move on and start fresh!
Also, guess what? THIS WEEK IS NEW YORK WEEK! Dai and I leave on Friday, so this is going to be an awesome week, I just know it.
- Take care of all homework assignments.
I will be missing a day of school next week since I will be gone, so I need to get the assignments due that day done and turned in before I leave. Also, I have quite a few assignments due this week that need to be completed.
- Leave my room neat and tidy before taking off for NYC.
I always seem to leave town in a whirlwind, neglecting my room in the process. I absolutely hate coming home to an already messy room, especially since I will be just making a
bigger
mess with my unpacking process! Plus, it is just nice to come home to a peaceful room after being away.
- Spend time with Marly and my dad.
Since I will be gone for a week, I need to give my pup some extra love, and make more of an effort to connect with my dad before leaving. My days are usually so hectic, that sometimes I don't even see my dad, even though we live in the same house! I will do my best to take Marly to work with me this week and on a couple extra walks, and maybe arrange to have coffee or dinner alone with my dad.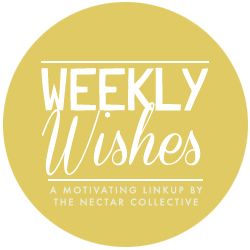 I wish everyone a wonderful week! Who else is really looking forward to Thanksgiving?! Coming home from NYC on Thanksgiving Day in time to have dinner with my family :)