- Take my lunch every day. I actually did this!!! Are you proud of me? I sure am! I'm going to try to keep up with this habit.
- Mentally prepare for and then ROCK the wedding I'm filming on Saturday. DOUBLE CHECK! Gosh, this wedding was a beautiful success. I am beyond excited to get to work on going through the footage and putting things together. And you know what, I would actually do this again!
- Find time to relax and unwind. This slightly happened! This past week was insanely busy and I went without much sleep for most of the week, and then the weekend was devoured by the wedding. But, I got to last night, so that was nice. Hopefully I will find more time this coming week.
- Go to bed before 11pm. I know that this was a goal of mine a few weeks ago, but I feel that it is something I need to try to focus on again since last week was beyond awful in this department. One night I slept for less than 3 hours... And now I have been sick ever since. This is not good.
- Unplug from a different form of social media each day. I think it is important to do this because I sometimes find myself so consumed with what is going on in all of these worlds, and forget about the one in front of me. If I am not checking Twitter, Facebook, and Instagram throughout the day, I feel like I'm missing something. Which I am: My own life! So, I think I will alternate each day disconnecting from one of these social media platforms.
- Finish some business cards I was working on. I started these for some friends back in July and never finished them! Truly awful, I know. But it's never too late, right...?
- Work on having more patience. This has always been a struggle for me, and quite honestly, probably stems from my dad not having a lot of patience either. I sometimes get annoyed at the littlest things or if things don't go the way I want them to. I need to learn to just take a deep breath and let things go.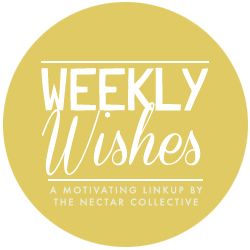 I hope everyone had a great weekend! I know I did and I can't wait to fill you in on the wedding festivities. What were you up to? And what are your goals for this week?